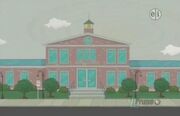 Woodview Elementary is a fictional school on the TV series WordGirl.
It is the school that most of the show's young characters, such as Becky, Violet, Scoops, Eileen, Victoria, TJ and Tobey attend. One of the teachers who works there is Mr. Dudley, who happens to be Becky's teacher. Another teacher, who also works on the debate club, is Ms. Davis.
Notable Students
Notable Staff
Gallery
Ad blocker interference detected!
Wikia is a free-to-use site that makes money from advertising. We have a modified experience for viewers using ad blockers

Wikia is not accessible if you've made further modifications. Remove the custom ad blocker rule(s) and the page will load as expected.