The eggs always go on top! -His signature catchphrase.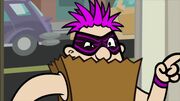 The Masked Bagger is a supervillain from a long time ago. His true identity is Bill the Grocery Store Manager. His costume consisted of a purple mask, purple gloves, purple boots, and a giant brown bag. He felt bad about the stealing, though, so he gave everything back and became a grocery store manager.
Ad blocker interference detected!
Wikia is a free-to-use site that makes money from advertising. We have a modified experience for viewers using ad blockers

Wikia is not accessible if you've made further modifications. Remove the custom ad blocker rule(s) and the page will load as expected.