The Butcher's Lair is a run down two story house. It appears to be made of wood, and isn't painted. The front 'lawn' has a broken white picket fence, farm animal cut outs, a butcher shop sign, and no grass. The front of the house has one large window and the second floor has three smaller windows.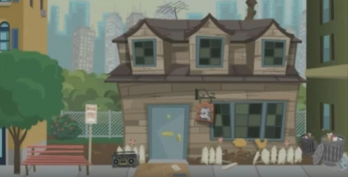 The main entrance and living room is the only part of the interior ever showed. The lights are almost always dimmed. The walls are the same shade of blue as the front door, have lots of cracks in the paint, and are adorned with a dart board and meat themed paintings. It's unknown who created them. There's a beaten up, red armchair in the center of the room, just in front of a cowhide rug. Beside the arm chair is a small lamp. Tangled cables run along the floor. Various meat products are scattered around the house. Additionally, giant slabs of meat hang from hooks on the ceiling. Judging by the many locks on his front door and the overall state of his house, The Butcher  may live in a bad part of town.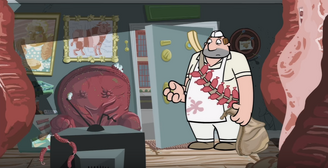 Ad blocker interference detected!
Wikia is a free-to-use site that makes money from advertising. We have a modified experience for viewers using ad blockers

Wikia is not accessible if you've made further modifications. Remove the custom ad blocker rule(s) and the page will load as expected.