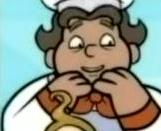 " It's me, Baker. "
— The Baker, to The Butcher
The Baker is voiced by Kevin McDonald. He debuts in The Butcher, the Baker, and the Candlestick Maker with Candlestick Maker.
Gallery
Cameos
The Baker makes several cameos in Season 2.
He appeared with the Candlestick Maker in the episode "Earth Day Girl", where Eileen wanted his birthday cake, but The Baker said, "Hold on, is your name Earth? No, so it isn't your cake."
The Baker and the Candlestick Maker made another cameo in a photo at the beginning of "A Better Mousetrap" alongside The Butcher as some past guests on Scoop's talk show "Getting the Scoop With Scoops".
In the episode "Wham Up!", The Whammer tried to be The Baker's sidekick, but he was fired because the cake he was helping make was supposed to say "Happy Birthday Kevin" (a pun on the name of The Baker's voice actor) instead of "Happy Wham-Day Whammer".
The Baker's latest appearance was in "A World Without Wordgirl" in the alternate reality, baking bread for King Chuck's sandwiches.