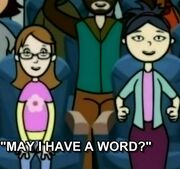 Tessa is a character regularly seen in the audience of May I Have a Word? where she is sitting on the pointing lady's right side.
Her name and age (ten years old) were revealed when she was interviewed on What's Your Favorite Word, where she talked about "adventure" being one of her favorite words.
Interview from WYFW
One of my favorite words is "adventure", because it makes me think of a beginning of a big long memory full of laughter and excitement, and a great journey to remember.
Appearances
Non-speaking
She is seen waiting in line for the Billy concert ahead of Emma and behind Violet Heaslip.
In spite of this, she is actually seen later in the Funbots concert instead. Not visible in the initial shot, a later focus on Tim and TJ shows her sitting behind Tim and to his right, on the far left edge of the screen.
Speaking
Tessa has some short lines in this episode, although she speaks in a different voice than the one used in her FW interview.
See also
Ad blocker interference detected!
Wikia is a free-to-use site that makes money from advertising. We have a modified experience for viewers using ad blockers

Wikia is not accessible if you've made further modifications. Remove the custom ad blocker rule(s) and the page will load as expected.