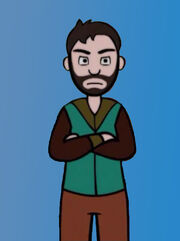 The phrase stubble guy refers to an unnamed background character who has a stubbly face as an identifying characteristic. He wears light brown pants, and a long-sleeved darker brown shirt over top of a slightly longer-sleeved camouflage-green undershirt, with a brighter green vest overtop of the brown shirt.
Appearances
In the audience he sits to the grey-shirted lady's left, and raises his hands (pointing up) to cover the face of toque guy (right right hand) and beehive lady (with left hand). He is also behind the pointing lady, and the Oak Street lady is directly behind him.
See also
Green-jacketed man, a darker-skinned man who shares stubble guy's taste for green in both pictures above
Ad blocker interference detected!
Wikia is a free-to-use site that makes money from advertising. We have a modified experience for viewers using ad blockers

Wikia is not accessible if you've made further modifications. Remove the custom ad blocker rule(s) and the page will load as expected.