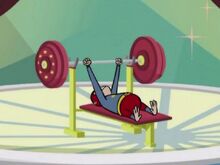 Strenuous
is an episode of
May I Have a Word
where
Tommy
correctly defined the word.
Plot
In Round 1, Tommy buzzes in first and correctly defines Strenuous as "requiring great energy or effort," pointing out that in the last clip it was strenuous for the Whammer to pull the trucks. Beau is then shown doing bicep curls using hand weights. He says that he is preparing for a reunion at Game Show Host University, and wants to impress his former girlfriend Belle Stunning.
In the bonus round, Tommy correctly chooses picture #1, in which Mr. Big's assistant Leslie is carrying a stack of boxes.
Prizes
An Official WordGirl Weight Bench
BONUS ROUND: An Official WordGirl Crane
Transcript
Featured on WordGirl episodes
Ad blocker interference detected!
Wikia is a free-to-use site that makes money from advertising. We have a modified experience for viewers using ad blockers

Wikia is not accessible if you've made further modifications. Remove the custom ad blocker rule(s) and the page will load as expected.