"Huggy, I need your help!"

This page is under construction.
It's not done yet. So while you're at it, you can help by adding a gallery.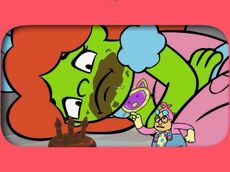 Smudge is an episode of May I Have a Word where Phil correctly defined the word.
Plot
In Round 1, Emily buzzes in first, and incorrectly guesses that Smudge means "a tug of war." Beau tells her she is incorrect, and Phil then buzzes in and gives the correct definition: "A dirty mark or smear."
In the bonus round, Phil correctly chose picture #1, in which the Mayor's uncle had mustard smudged over his beard.
Prizes
An Official WordGirl Life-size Beau Handsome Cutout
BONUS ROUND: An Official Larger-than-life Beau Handsome Cutout
Transcript
Featured on WordGirl episodes
Ad blocker interference detected!
Wikia is a free-to-use site that makes money from advertising. We have a modified experience for viewers using ad blockers

Wikia is not accessible if you've made further modifications. Remove the custom ad blocker rule(s) and the page will load as expected.