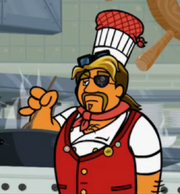 Raul Demiglasse is a villain in WordGirl. He is a very popular television chef, known for his catchphrase "If you can't stand the heat, get out of the kitchen!" and for the fact he can "make anybody cry.
In reality, he is a fraud, making his beef stew from pre-made canned soup and using small flecks of chopped onion to make his opponents cry. In "The Stew, The Proud," when he was having a booksigning, Tim Botsford took Becky and Bob along to meet him and get his grill-brush signed. While there, the Butcher appeared and started a conflict that eventually concluded by everyone finding that the celebrity chef was not what he appeared to be, and the crowd that was there to meet him demanded their money back.
Demiglasse later made various cameos throughout the series; in "Oh, What a Tangled Rope You Tie, Amazing Rope Guy" and "House Arrest" on a game show called Celebrity Skeeball, in 'Captain Tangent,' as a chef in Blackbeard's Buffet, and in The Rise of Miss Power as one of the series' villains who had teamed up against Miss Power, tied up with Glen Furlblam and Seymour Smooth.
His name comes from the term demi-glace, a rich brown sauce used in French cuisine.
Ad blocker interference detected!
Wikia is a free-to-use site that makes money from advertising. We have a modified experience for viewers using ad blockers

Wikia is not accessible if you've made further modifications. Remove the custom ad blocker rule(s) and the page will load as expected.