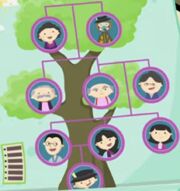 Mrs. Ming's sister refers to the sister of Mrs. Ming seen on Todd's family tree in The Ordinary, Extraordinary Botsfords.
The illustration also indicates that she is the sister of Mr. Ming. All 3 are indicated as being siblings, meaning that Todd's mother is also his aunt.
Todd's grandfather is her (and Mr. Ming's and Mrs. Ming's) father.
Todd's grandmother is her (and Mr. Ming's and Mrs. Ming's) mother.
Ad blocker interference detected!
Wikia is a free-to-use site that makes money from advertising. We have a modified experience for viewers using ad blockers

Wikia is not accessible if you've made further modifications. Remove the custom ad blocker rule(s) and the page will load as expected.