The library is the local library of Fair City. The main librarian is Miss Dewey, who works with Milt. Becky is often seen there, though it's used more rarely in later episodes. In Book Ends, it was threatened by Tobey's robots.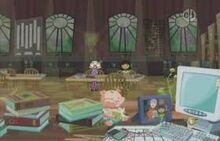 In Have You Seen The Remote?, Wordgirl and Tobey search the library for the remote and read the dictionary together.
Books that can be found there include
Superheros and You: A Practical Guide
and
Supervillains and You
. According to Miss Dewey, Becky has read all the books in the library and has never been late returning them. It can be assumed that Becky visits the library quite often.
Ad blocker interference detected!
Wikia is a free-to-use site that makes money from advertising. We have a modified experience for viewers using ad blockers

Wikia is not accessible if you've made further modifications. Remove the custom ad blocker rule(s) and the page will load as expected.