Johnson is TJ's best friend. He adores TJ, and mimics him a lot of the time. Johnson is also a member of the WordGirl Fan Club, probably because T.J is the captain of it. He mistakenly says "I'm your biggest fan" in Best Fan Club Meeting Ever implying that he is more of a fan than TJ than of Wordgirl. He has been shown to get upset when TJ ignores him (see "All That Chazz").
In What Would WordGirl Do, Johnson refers to his role in the WordGirl Fan Club as Executive Vice President of Strategic Development.
Johnson seems to like to, or is forced to go to many summer camps, because in previous years he is seen going to camps for basketball, baseball, drama and the outdoors.
Johnson plays for a baseball team whose mascot is a duck with a hat and glasses. Even though he idolizes T.J so much, he is on a different baseball team than him. The reason Johnson is friends with TJ despite playing for another team may be the saying "Keep your friends close and your rivals even closer."
Name status
Johnson as forname
Johnson shares the same hair color and speech mannerisms as Becky's friend Violet Heaslip. Although not confirmed or clearly indicated, he may be her little brother the same way TJ is Becky's little brother. This would make his full name Johnson Heaslip. That said, in Have You Seen the Remote? he attends the WordGirl Fan Club alongside Violet and she does not act familiar with him.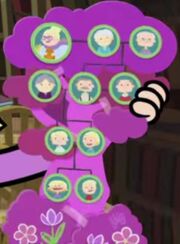 Things change in The Ordinary, Extraordinary Botsfords when Violet confirms she has a brother by showing a family tree, showing a blonde male sibling in a red shirt. Johnson owns a red shirt.
Johnson as surname
Johnson might instead be the surname of TJ's friend, rather than his given name. This is implied by TJ calling him "the honorable Mister Johnson" at their WordGirl Fan Club meeting in Best Fan Club Meeting Ever. However, it is possible to affix Mister to a given name as well as a surname.
Complicating the issue is a WYFW contestant named "Joshua" (pictured right) who looks nearly identical to Johnson. If they are the same person, then this would imply his name is Joshua Johnson.
The surname Johnson is possessed by Loretta Sanchez-Johnson, who also has blonde hair. This could mean that she is a relative, possibly his mother. Loretta Sanchez could be the maiden name of his mother, with her opting to hyphenate her surname with Joshua's father, while Joshua only took his father's surname but not his mother's.
Gallery