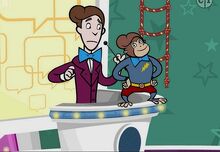 Imitate is an episode of May I Have a Word where Emily correctly defined the word.
Plot
In Round 1, after watching the clips, Phil buzzes in first and guesses incorrectly that Imitate means "to dance and sing." Emily then buzzes in and correctly defines Imitate as "to mimic or impersonate...like in the last clip, where Huggy is imitating Tiny Big's moves." Huggy then comes down a ladder onto the announcer podium dressed as Beau, complete with sweeping hair and bow tie. Beau acts annoyed at him, and tells him to show Emily what she's won.
In the bonus round, Emily correctly chooses picture #2, where WordGirl is imitating Toby as he throws a tantrum.
Prizes
An Official Beau Handsome Microphone
An Official Beau Handsome Microphone Storage Box
Transcript
Featured on WordGirl episodes
Ad blocker interference detected!
Wikia is a free-to-use site that makes money from advertising. We have a modified experience for viewers using ad blockers

Wikia is not accessible if you've made further modifications. Remove the custom ad blocker rule(s) and the page will load as expected.