Hurl is an episode of May I Have a Word where Tommy correctly defined the word.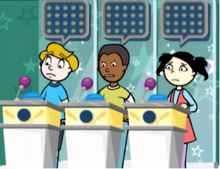 Plot
In round 1, after the examples for hurl are shown, Tommy exclaims, "Oh butcher, will you never learn that your meat attacks are no match for WordGirl?  She's invincible!"  Emily then buzzes in and defines the word invincible, giving the right definition, but for the wrong word.
Tommy then says "The butcher...what a totally lame opponent for WordGirl.  And he calls himself a villain!"  Emily buzzes in to define the word villain, but Beau stops her before she can repeat her mistake.
Finally, Tommy buzzes in and correctly defines hurl as "to throw or fling, like the butcher does with his lame meat."
In the bonus round, Tommy chooses the correct picture (#1 - T.J. hurling an apple core into the trash).
Prizes
Round 1: A giant paper clip
Round 2: A giant stapler
Gallery
Transcript
Featured on WordGirl episodes
Ad blocker interference detected!
Wikia is a free-to-use site that makes money from advertising. We have a modified experience for viewers using ad blockers

Wikia is not accessible if you've made further modifications. Remove the custom ad blocker rule(s) and the page will load as expected.