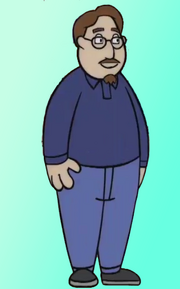 Gavin Dunnaher is a background character who is named by a reporter in Bummertime, when he was running in a marathon.
He has appeared as a background character in many episodes, including a one-time appearance as a minor villain in Violet Superhero.  He also serves as the school bus driver.
There are several episodes that show him running, such as The Good, The Bad, And The Chucky.
Appearances
Ad blocker interference detected!
Wikia is a free-to-use site that makes money from advertising. We have a modified experience for viewers using ad blockers

Wikia is not accessible if you've made further modifications. Remove the custom ad blocker rule(s) and the page will load as expected.