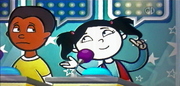 Flicker
is an episode of May I Have a Word where
Emily
correctly defined the word.
Plot
In Round 1, Emily buzzes in and correctly defines the word Flicker as "to shine with a light that's always changing."  She goes on to tell a story about the lights flickering in her house, which at first she thought was a ghost, but turned out to be her cat standing on a cord. Beau asks what the point of the story is, and she says she didn't have one.
In the bonus round, Emily correctly chooses picture #1, which has torches on the wall that were flickering.
Prizes
An Official WordGirl Hover Board
BONUS ROUND: An Official WordGirl Non-hovering Skate Board
Quotes
Transcript
Featured on WordGirl episodes
Ad blocker interference detected!
Wikia is a free-to-use site that makes money from advertising. We have a modified experience for viewers using ad blockers

Wikia is not accessible if you've made further modifications. Remove the custom ad blocker rule(s) and the page will load as expected.