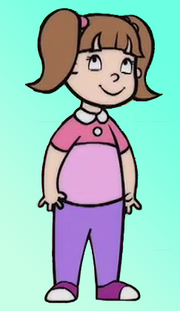 The phrase
dodgeball girl
refers to an unnamed girl who goes to the same school as
Becky
and
Tobey
. She receives special focus in one episode where she stalks Tobey, having traumatized him over his dodgeball defeat that he wants to make summer last forever so he doesn't have to go to school and face her again.
Appearances
In school.
Seen in the company of a guy who may be her dad.
She is seen waiting in line for the Squishy Funbots concert.
In this case she is standing next to the man who appeared as the Unnamed Robber in Violet Superhero.
The character previously implied to be dodgeball girl's dad is in the line, but is nowhere near her. He is actually standing behind Bob Botsford in line, next to Star-shirted girl.
She is later seen within the audience of the concert, visible behind Becky and TJ in the space between them. Steven (WYFW) is sitting to her left side, and a blonde woman in a green jacket is sitting to her right side. Lesly is sitting over her right shoulder.
Similarities
Ad blocker interference detected!
Wikia is a free-to-use site that makes money from advertising. We have a modified experience for viewers using ad blockers

Wikia is not accessible if you've made further modifications. Remove the custom ad blocker rule(s) and the page will load as expected.