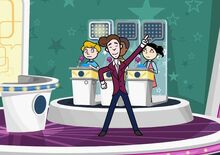 Discard is an episode of May I Have a Word where Phil correctly defined the word.
Plot
In Round 1, Phil buzzes in and correctly defines Discard as "to get rid of something you don't want anymore." Beau then discards his mic and his bow tie, and says he wants to follow his lifelong dream--to dance!
In the bonus round, Phil correctly chooses picture #2, where Chuck is discarding tickets.
Prizes
Dance Lessons From Beau Handsome
More Dance Lessons From Beau Handsome
Trivia
This episode reveals that Phil does not know how to dance.
This is the last episode of May I Have a Word due to Soup2Nuts shutting down and WordGirl ending its run.
Transcript
Featured on WordGirl episodes
Ad blocker interference detected!
Wikia is a free-to-use site that makes money from advertising. We have a modified experience for viewers using ad blockers

Wikia is not accessible if you've made further modifications. Remove the custom ad blocker rule(s) and the page will load as expected.