David Driscoll is a cheesemaster who was featured in the episode "Highway to Havarti" at the International Cheese Exhibition. He was kidnapped by Dr. Two-Brains (prompting him to comment, "Why does every lecture I give end the same way?") because he wanted Driscoll to make his Cheddar-Provo-Swiss Super-Sandwich-Cheese (Driscoll's solution was "Just use a slice of each!")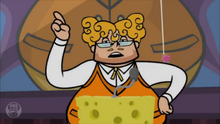 Two-Brains was caught by WordGirl and she presumably returned Driscoll to the cheese exhibition. Driscoll also made two cameo appearances in the episodes "Oh, What a Tangled Rope You Tie, Amazing Rope Guy" and "House Arrest" as playing Celebrity Skeeball with other celebrities, such as Raul Demiglasse and The Queen of Barbronia.    
Ad blocker interference detected!
Wikia is a free-to-use site that makes money from advertising. We have a modified experience for viewers using ad blockers

Wikia is not accessible if you've made further modifications. Remove the custom ad blocker rule(s) and the page will load as expected.