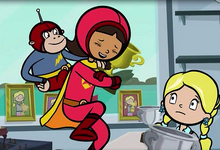 Clutch is an episode of May I Have a Word where Emily correctly defined the word.
Plot
In Round 1, Emily buzzes in and correctly defines Clutch as "to grip or hold tightly...like WordGirl was doing with the trophy she won in that last clip."  After announcing that she had the correct answer, Beau tells the contestants that they will find a ballot for Game Show Host of the Year under their buzzers.  All entrants except for Beau were crossed out.
In the bonus round, Emily correctly chooses picture #2, where Reginald was clutching a bag of jewelry.
Prizes
An Official WordGirl Dune Buggy
An Official WordGirl Giant Sand Dune
Transcript
Featured on WordGirl episodes
Ad blocker interference detected!
Wikia is a free-to-use site that makes money from advertising. We have a modified experience for viewers using ad blockers

Wikia is not accessible if you've made further modifications. Remove the custom ad blocker rule(s) and the page will load as expected.