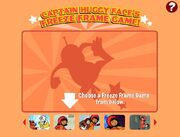 Captain Huggy Face's Freeze Frame! (also called Captain Huggy Face's Freeze Frame Game! or just Freeze Frame) is a WordGirl game.
Objectives
Each freeze frame is from the first ten 2006 shorts, also known as The Amazing, Colossal Adventures of WordGirl. You have to choose the correct word that matches the short when it stops.
Glitches
Sometimes, the whole game will freeze when the video freezes.
The first, second and third appear to have extremely low quality, while the others seem normal.
Villains
Link
Ad blocker interference detected!
Wikia is a free-to-use site that makes money from advertising. We have a modified experience for viewers using ad blockers

Wikia is not accessible if you've made further modifications. Remove the custom ad blocker rule(s) and the page will load as expected.