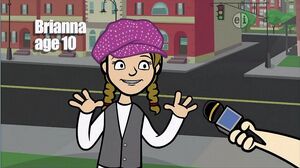 Brianna is a 10 year old girl interviewed on What's Your Favorite Word? where her favorite word is "sequins".
Interview for WYFW
My favorite word is "sequins". Well, I really like sequins because they shine... especially silver sequins, because it goes with a lot of clothes... and, my sequin boots are very comfortable with the fur inside.
Ad blocker interference detected!
Wikia is a free-to-use site that makes money from advertising. We have a modified experience for viewers using ad blockers

Wikia is not accessible if you've made further modifications. Remove the custom ad blocker rule(s) and the page will load as expected.