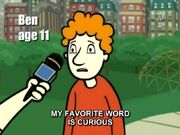 Ben is a background character that is one of the students at Becky's school. He wears a red long-sleeved shirt and has curly orange hair. He was named in What's Your Favorite Word? which he went on when he was 11 years old, at which time his favourite word was "curious".
Interview for WYFW
My favorite word is "curious", because when you're curious you get a lot of answers. I'm a very curious person myself, and I love to ask questions. I also love to receive answers.
Appearances
He is seen as part of the crowd in A Vote For Becky, to Shelby's right and Tessa's left.
He and another girl are riding a teeter totter. Both speak to Royal Dandy when he wants it to himself.
Gallery