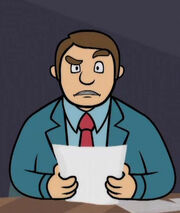 Anthony
is a TV news anchorman on the Network News. He appeared as an in-studio TV announcer in many of the episodes, especially in the first two seasons.
Anthony apparently was also a game show host at one time, since he appeared on the ballot in clutch, an episode of May I Have a Word?
In a strange twist, a female version of Anthony appeared in the Season 8 episode A Sticky Situation, anchoring "The Oddly Specific News."
Ad blocker interference detected!
Wikia is a free-to-use site that makes money from advertising. We have a modified experience for viewers using ad blockers

Wikia is not accessible if you've made further modifications. Remove the custom ad blocker rule(s) and the page will load as expected.