Premieres August 5th.
A Few Words From WordGirl:
The school is gearing up for Inspiration Day, and since WordGirl's heroic actions always uplift the town's citizens, the Principal asks WordGirl to make the keynote speech at the event. WordGirl agrees but immediately begins to feel the pressure. People are expecting a lot from her speech, and even though she can always be counted on to provide a word's definition, can WordGirl really use her words to inspire people?
Featured Words
Dawdle, Inspiration
Ears to You: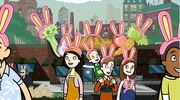 Mr. Big is up to his mind-control tricks once again, this time through the use of some ultra adorable Squishy Bunny Ears. When Becky sees the Ears for sale, she scoffs- "Who wants to wear those?" Turns out, Mr. Botsford does, and as soon as he puts them on, he causes a citywide craze. People start buying up all of Mr. Big's Squishy Bunny Ears. It's BUN-demonium. Can WordGirl figure out Mr. Big's latest trick before the whole town is under his mind control?
Featured Words
Original, Laughable.
Trivia
a Few Words from WordGirl is the first episode in the entire series (except for the shorts) where there is no main villain.
Ad blocker interference detected!
Wikia is a free-to-use site that makes money from advertising. We have a modified experience for viewers using ad blockers

Wikia is not accessible if you've made further modifications. Remove the custom ad blocker rule(s) and the page will load as expected.